About Us
FINASA/OSASCO IS THREE TIMES
SALONPAS CUP CHAMPION

The team from São Paulo beat Rexona-Ades from Rio de Janeiro, 3 sets to 0
Finasa/Osasco is 2005 Salonpas Cup champion. The team from São Paulo secured its third time as the Tournament Champion, defeating Rexona-Ades 3 sets to 0, 25/23, 25/21 e 25/23 in 80 minutes, this Saturday morning, for a cheering audience of over 10,000 people who went to Ibirapuera Stadium for the final match. Besides returning the same score from last year, when the team was defeated 3 sets to 0 too, Finasa/Osasco finally got ahead in an until then even series of results between both teams, thus being entitled to the U$ 10,000 prize for the Champion. Fighting for third place, All Stars Belgian beat Minas Tênis Clube, 3 sets to 1. Virginie De Carne from All Stars was chosen the best player in the Tournament.
The final game of 2005 Salonpas Cup proved why Finasa/Osasco and Rexona-Ades are the best women volleyball teams in Brazil now. Counting on exactly nine athletes from Brazil National Team between both clubs, and a long tradition of rivalry, everybody was sure to watch a great game between them. And the expectation proved to be true, along three confrontational sets of high technical level.
As the public's favorite, Finasa/Osasco had a better start, opening with a good break. Soon though Rexona-Ades fought back, ant the score tied at 23/23. Feeling more confident, the girls from São Paulo ended the set in 25/23. The second was an even more balanced set up to the eighth point. From then on, the two times champion got ahead and, even allowing for a tie at 18/18, won 25/21. In the third and last set, the girls from both clubs fought all they could. The team from Rio was seemingly more in tune, and could keep ahead the score until 14/13. But today was Finasa/Osasco's day. The team got up to his feet and, in front of an enthusiastic audience, won the set and the game 25/23.
Paulo Coco, Finasa/Osasco's Coach, chosen the best Coach of the Tournament, said this was an important title, though he did not expect a result such as 3 sets to 0 over Rexona-Ades. "This is an excellent accomplishment, issuing from much work, determination and constant demanding. For me, the score was amazing because Rexona-Ades has such a great group. The championship was quite balanced, since many teams were playing very well and could have easily won the competition," said the Champion Coach.
Finasa/Osasco's Captain Valeskinha emphasized that the group is excellent. Since the beginning the players were confident they could go as far as the final match. The athletes from the National Team came as a welcome reinforcement to the teams' quality. "As a whole, the Cup was good for us, because we only lost for All Stars. When we arrived, the base team was already very in tune, so we just added to the complete team. Today we started the game fully focused and made only a few mistakes. That's why the Title is ours."
Fabi, the libero player, one of the best athletes in Rexona-Ades and the National Team, admitted the team did not play as well as they could. "From the start, we didn't play as we should. We were kind of intimidated, and this can't happen in a final match, for then we must be very determined and focused. We also made a lot of mistakes, and they opened a big score. Against high level teams such as Finasa, we simply can't do so badly," was the Captain's final analysis in her first season at Rexona-Ades.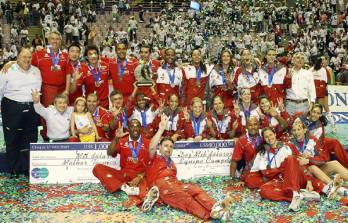 SALONPAS CUP BEST PLAYERS
Best Player: Virginie De Carne (All Stars Belgian)
Best Coach: Paulo Coco (Finasa/Osasco)
Best Attack: Renata Colombo (Rexona-Ades)
Best Defense: Flávia Terra (Minas Tênis Clube)
Best Reception: Jaqueline Carvalho (Rexona-Ades)
Best Serve: Thaísa Menezes (Rexona-Ades)
Best Setter: Frauke Dirickx (All Stars Belgian)
Best Block: Ednéia Lima (Minas Tênis Clube)
Jogo 1: MINAS TÊNIS CLUBE WINS SALONPAS CUP OPENING GAME
The game started at 6pm and the Brazilian team won 3 x 1 over Clube Proyecto Nacional, from the Dominican Republic
In a tight game, in which both teams rallied after the score, Minas Tênis Clube defeated Clube Proyecto Nacional in the first game of 2005 Salonpas Cup. At the Ibirapuera Stadium, during 1h57min, the Brazilian team scored 3 sets to 1 (25x23, 25x22, 23x25, 25x15). This first match was a true success, bringing 9,500 people to the volleyball arena, despite the low temperature, tonight in São Paulo.
The Minas team gradually built the score using patience as its main weapon, with the help of the cheering crowd. In the first two sets, the Brazilian girls were ahead almost all the time, but on the third the team led by the Brazilian coach Emmanuel Arnaut [Manu] partially lost its concentration and allowed the Dominicans to win 25x23. In the fourth and last set, the Brazilians found their best game and once again played in a very strong rhythm that puzzled the rival team, easily arriving at the final score, 25x15.
"When we were about to start the fourth set, I talked to the group and stressed our strong aspects. I told them what we needed to do better. I asked the players to be totally attentive and concentrated," explained Manu. Despite having won, he says the team needs to improve a few things, specially the integration among the players. "The game was good, and it was useful to know the Dominican team, but I'm sure we need to improve many aspects. Let's train and work for better results in the next games," says Coach Manu.
Francisco Cruz, the coach of Clube Proyecto Nacional, didn't like his team's performance. "It was very different from what I expected, the girls didn't perform the way I wanted. It was their first time playing for such a big audience, and this ended up affecting their mood. I hope to get better results next time," said Cruz.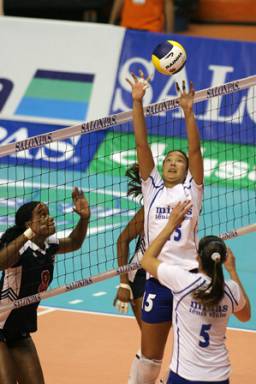 Jogo 2:FINASA/OSASCO BEATS REXONA-ADES AT SALONPAS CUP OPENING
São Paulo team turns initial score around and wins 3 sets to 2, in a leveled and highly technical match
Finasa beat Rexona at the second game of the opening night of the 2005 Salonpas Cup, Women's International Volleyball Tournament. The two main Brazilian teams had a hard long (111 minutes), match, finally won by São Paulo team, 3 sets to 2 (15/25 25/20, 25/19, 21/25 e 15/12). The Cup goes on tomorrow, Saturday, with two more games. At 3pm, Clube Proyecto Nacional (Dominican Republic) x Havana Clube (Cuba), and at 5pm, Finasa/Osasco (Brazil) x All Stars Belgian (Belgium). TV network BandSports will broadcast live both games, which are free for the public.
As it was expected, both Finasa/Osasco and Rexona-Ades teams fought in a highly technical duel, confirming their top performances and the rivalry between them. Even though some of their best players were absent from this first match, both teams showed great volleyball. Their performances seemed that of a final tournament match, to the great satisfaction of the almost 11,000 people gathered to watch these first rounds.
"We were very tense and anxious in the first set, that's why we lost it. But in the second, we were calmer and it was possible to turn the game to our side. The girls played very well and didn't feel the pressure to play for the first time before so many people," said Paulo Coco. As to the next game, he expects hard dispute. "As I was told, it's quite a strong team."
For Coach Helio Griner, the game was balanced, but his team missed many opportunities. "Things went the way we expected, we don't have the same bank as Finasa. We had the same chances as they did, but we only had one mid-player and one setter to relay. The game was one for us, one for them, all the time, but in the end they won," explained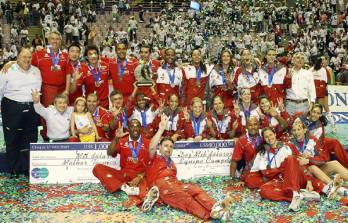 Salonpas cup will have the three main Brazilian teams,besides teams from Belgium, Cuba and Dominican Republic
Between August 26 and September 3, the best women's volleyball teams will meet in São Paulo for the 5th Salonpas Cup - International Women's Volleyball Tournament. Representing Brazil, Rexona/Ades (RJ), 2004 Salonpas champion; Finasa/Osasco (SP), last Superleague champion and Salonpas Cup twice champion (2001 and 2002), and Minas Tênis Clube (MG) will play against Havana Club (Cuba), All Stars (Belgium), and Club Proyecto Nacional de Volleyball (Dominican Republic). All games will be held at Ibirapuera Stadium, free for the public.
2005 Salonpas Cup happens at a very favourable moment. Brazilian women volleyball has obtained a series of meaningful results, among which shines the Grand Prix title. Motivated by this stimulating context, Hisamitsu Pharmaceutical Co., Inc., the Japanese manufacturer of Salonpas products, offers the Brazilian public an opportunity to watch our teams defending their legendary status against very strong opponents. BandSports will broadcast all games, and the final match will be broadcast live all over Brazil, by Globo TV network from10a.m. on.
Once more, the Brazilian teams are expected to win Salonpas Cup, just as it happened in the previous years. Finasa/Osasco, now under Paulo Coco direction, won the 2004 State Championship, and the 2004/2005 Superleague, with Paula Pequeno, Carol Gattaz and Valeskinha in court. Rexona/Ades team, runner-up at Superleague, is not at all behind. Coach Bernardinho will be able to count on players such as Sassá, Jacqueline and Fabi (libero), also distinguished athtletes in the Brazilian team who played Grand Prix, together with Fernanda Venturini.
Minas Tênis Clube comes to 2005 Salonpas Cup decided to win their first title. Coach Emmanuel Arnaut has put together an admirable young team, with players awarded the Gold Medal at the World Youth Championship, such as Ana Tiemi, Fernanda Garay, Suellen, and Verônica, besides Natália and Mariellen.
Amon foreign representatives, the main highlight is Havana Club, a team formed from Cuban National Team, one of the best in the world, Bronze Medal at Athens Olympic Games. Dominican Republic team, formed from the runner-up group at the 2003 Pan-American Games, having defeated Brazil at semi-finals, is characterized by a tenacious style of playing, rallying all the time as if each ball defines the final score. Belgium All Stars is the European representative in the tournament.
From August 19 on, free tickets are available at Ibirapuera Stadium, and the following drugstores: Antares, Bifarma, COOP, Droga Raia, Droga Verde, Drogão, Drogaria São Paulo, Drogasil, Farmais, Onofre, Pague Menos e S.O.S. Farma.