Corporate Social Responsibility2020
Feature
Kiyohara Industrial Park Smart Energy Project Fully Launched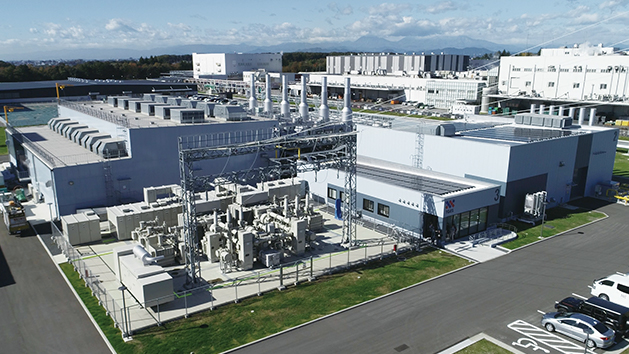 In December 2019, full-scale energy supply was launched at the Kiyohara Industrial Park, where our Utsunomiya Factory is located, in Utsunomiya , Tochigi Prefecture. (The energy supply to our factory started in September 2019.) In April 2020, we were certified as a company with a Cooperative Energy-Saving Plan, indicating that our GHG* reduction efforts have entered a new stage.
In June 1987, Utsunomiya Factory No. 1 was completed as part of the project commemorating the 140th anniversary of our establishment. From the 1980s, the demand for our products continued to grow, making it difficult for the Tosu Factory alone to handle it, so the Utsunomiya Factory was established mainly for the purpose of organizing a system that could enable immediate responses in eastern Japan. Today, however, the Utsunomiya Factory serves as one of the main production bases of Hisamitsu Pharmaceutical. Manufacturing MOHRUSR as one of its main products, the factory ships not only throughout eastern Japan but also to the U.S., ASEAN, and the Middle East.
*GHG: Greenhouse Gas
What is the Kiyohara Industrial Park Smart Energy Project?
In this project, the Kiyohara Industrial Park Smart Energy Center (the Center) and supply infrastructure, consisting of private power distribution lines and heat pipes, have been newly installed and are operated in the Kiyohara Industrial Park, Utsunomiyain Tochigi Prefecture, in order to ensure energy supply for seven business facilities in the industrial park. This is Japan's first integrated cross-factory energy saving project implemented to share power and heat (steam and heated water) among business facilities in an inland industrial park. The project is the result of cooperation between the three companies of Hisamitsu Pharmaceutical Co., Inc., Calbee Inc. and Canon Inc. together with Tokyo Gas Co., Ltd. and Tokyo Gas Engineering Solutions Corporation (TGES), both boasting a proven record especially in the field of the introduction of a Gas Co-generation System (CGS).
The power generated at the Center is distributed through the private power distribution lines, while the heat (steam and heated water) produced from waste heat at the time of power generation is distributed through the heat pipes. The project is aimed at realizing local energy production and consumption by making extended use of power and heat through a smart energy network backed by Information Communication Technology (ICT).
Moreover, SENEMS, an energy management system featuring cutting-edge ICT, brings together information on power and heat (steam and heated water) used at the seven business facilities with different demand and achieves an optimum operation in response to demand fluctuation. Through this project, we will strive not only to increase economic efficiency but also to accomplish energy conservation by approximately 20% and CO2 reduction by approximately 20%, both of which are difficult for single business facilities to achieve on their own.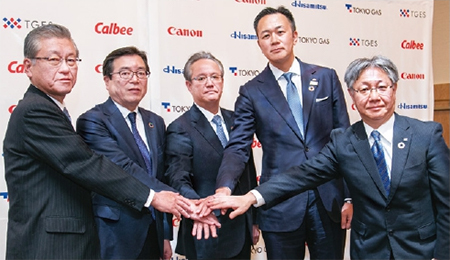 Reducing Environmental Impact by Joining the Kiyohara Industrial Park Smart Energy Project
At the Utsunomiya Factory, we have made a wide variety of efforts to reduce environmental impact, such as improving the efficiency of manufacturing lines and air-conditioning equipment and developing and introducing highly efficient manufacturing equipment.
The factory's target of reducing CO2 emissions is at 20% from the previous year. As a result of participation in the Kiyohara Industrial Park Smart Energy Project, the factory's FY 2019 CO2 reduction rate converted on an annual basis was approximately 20% (converted from the reduction rate of 10.4% achieved in the operational period from September to the end of March). The participation in the project, thus, enabled us to accomplish a favorable performance result. As for energy consumption as well, we accomplished about 20% reduction from the previous year (converted from the reduction rate of 10.5% in the operation period from September to the end of March.)
By working together with other companies, we successfully achieved reduction of environmental impact, which we could not have realized on our own. It is expected that the project will continue to constantly contribute to reducing environmental impact.
Actually, the Kiyohara Industrial Park Smart Energy Project is one of the ISO targets that the factory has been addressing.
The factory is also certified with ISO45001 for occupational health and safety. By integrating the ISO45001 management system with our environmental measures, we are striving to operate an environment, health and safety (EHS) management system effectively.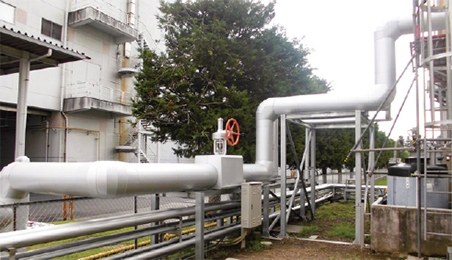 Environmental Management System at the Utsunomiya Factory
As part of our environmental efforts, the Utsunomiya Factory is certified with and operates under ISO14001 (environmental management system).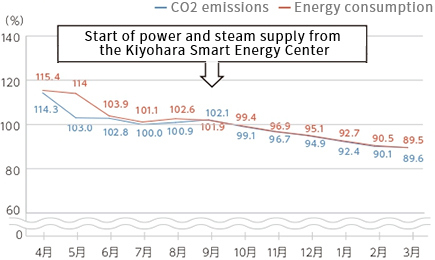 Managers in Charge of EHS Measures of the Utsunomiya Factory
Yuichi Takano
Manager, Section 1, Utsunomiya Factory
In the Utsunomiya Factory Group, we have been making efforts to reduce environmental impact, such as improvement in production activities and modal shift. I feel, however, that our participation in the Kiyohara Industrial Park Smart Energy Project will accelerate our energy conservation and CO2 emissions reduction more than ever, leading us to contribute further to the conservation of the global environment.
Moreover, as a result of participation in the project and the certification of ISOs, the existence of Hisamitsu Pharmaceutical is reaffirmed not only in the Kiyohara Industrial Park but also in the local community, and this is truly significant. I would like to continue to work with pride as a member of Hisamitsu.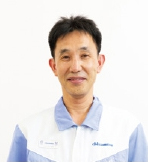 Yuzuru Kawasaki
Manager, Test Management , Quality Control Division, Utsunomiya Factory
The main efforts made by the Utsunomiya Management Group include conserving resources through improvement activities, ensuring compliance with environment-related laws and regulations, and making packages even more compact. The certification of ISO14001 and the participation in the Kiyohara Industrial Park Smart Energy Project have further raised employees' awareness of environmental issues, which is a great achievement in terms of in-house effect. Meanwhile, the certification of ISO45001 has made us recognize the importance of risk assessment once again and served as an opportunity to discover new challenges in proceeding with the entirety of EHS management.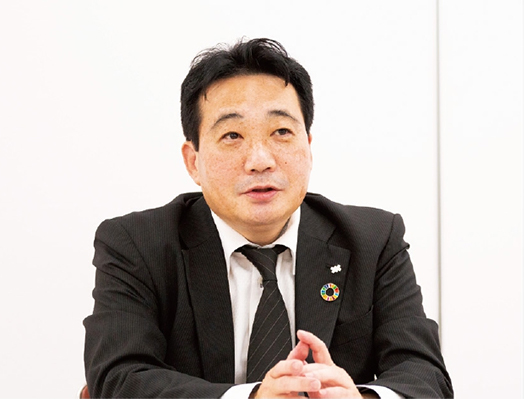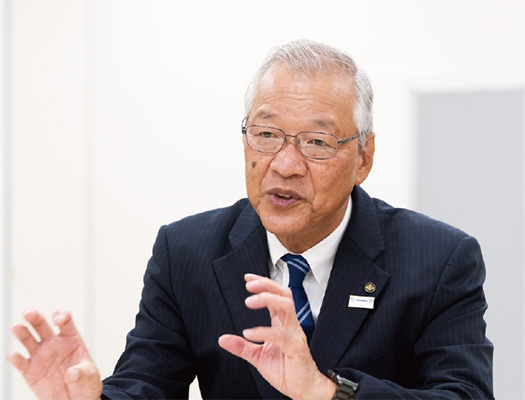 Toward Solving Environmental Problems through the Kiyohara Industrial Park Smart Energy Project
In the Kiyohara Industrial Park Smart Energy Project, the Center of Tokyo Gas Engineering Solutions Corporation (TGES) is committed to integrated energy management for seven business facilities of three companies while supplying energy to each of the facilities and realizing an optimum system management.
Toshiaki Tsuruda, the Head of the Production and Environment Headquarters of Hisamitsu Pharmaceutical, had a talk session with Director General Masakatsu Otsuka of the Kiyohara Smart Energy Center regarding environmental problems, which are priority concerns for all business operators.
Date:August 24 2020
Venue:Kyushu Head Office and Utsunomiya Factory(in the form of an online meeting)
Greeting
Tsuruda:Thank you very much for giving us your precious time despite your busy schedule. Full-scale energy supply was launched in December 2019, followed by the manifestation of a favorable impact on the environment. Today, I hope that we can reconfirm what's been going on so far and talk about what will go on from now on. Could you first explain about TGES?
Measures to Address Energy Issues
Otsuka:TGES is an engineering company fully owned by Tokyo Gas Co., Ltd., which supplies city gas and power mainly for customers in the metropolitan area. Our strong point lies in our "user know-how" based on rich expertise that we have accumulated for half a century through commitment to the management and operation of energy facilities and equipment. We strive to present comprehensive solutions in the energy and related fields. Our specific operations include design, construction and maintenance of liquefied natural gas (LNG) terminals and pipelines for receiving LNG procured overseas and manufacturing and supplying city gas. Our operations also include an on-site energy service for each factory, hospital, hotel, etc. with a focus on distributed power generation, such as co-generation. In addition, we offer the service of district heating and cooling (DHC) and Smart Energy Network, in which heat and power are supplied effectively to a multiple number of business facilities through the energy plant established in the relevant district, throughout Japan and even in foreign countries.
Tsuruda:To us at Hisamitsu Pharmaceutical, the reduction of environmental impact in the process of production has been a major challenge so far. Although we have tried a wide variety of measures, we have felt some kind of limits in making further efforts.
Otsuka:I think that it is a typical case showing that it is difficult for a single production facility alone to address challenges regarding energy management. The Smart Energy Network of TGES is a solution for challenges that are difficult to be addressed by a single facility alone, such as long-term operation in a well-planned manner and the realization of an appropriate scale through cooperation among business facilities. Our solution is reliable in terms of generating desired effects.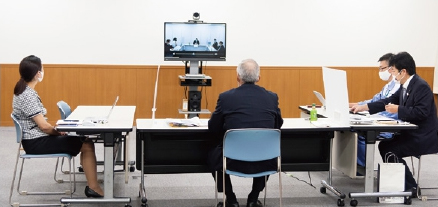 Challenges Left by the Great East Japan Earthquake ?
Otsuka:Since the Great East Japan Earthquake, both Tochigi Prefecture and Utsunomiya City have been focusing on power procurement on a stable basis and disaster-resilient community development, increasing momentum toward realizing the project. Furthermore, I heard that in consideration of the limits in what single business facilities could do on their own to ensure compliance with the Energy Saving Act, the prefecture was examining a wide variety of measures at the working level.
Tsuruda:These challenges confronted by the local governments served as the cornerstone for the smooth launch of the project.
At the time of the Great East Japan Earthquake, the Utsunomiya Factory was affected as well as other business facilities, forcing us to suffer a lot of difficulties in achieving recovery.
Otsuka:I was engaged in equipment recoveryof the Saitama District Heating and Cooling Center, making me realize the effectiveness of centralmanagement by an energy center with CGSfrom the perspective of BCP*
Partnership
Tsuruda:I feel that one of the key points of the project resides in cooperation from the local governments, namely Tochigi Prefecture and Utsunomiya City. The cooperation from the governments served as a major driver when we coordinated the project within Hisamitsu Pharmaceutical.
Otsuka:Similar projects were already in place, but this is the first case where such a comprehensive project is being implemented in an inland area. To TGES, this project is not only more than simple GHG reduction and energy conservation but also significant in various aspects, such as regional revitalization, increase in resilience through a decentralized energy system, local energy production and consumption, an appropriate form of investment in infrastructure, including public investment, the establishment of partnerships, and the betterment of the process.
Tsuruda:To Hisamitsu Pharmaceutical as well, a comprehensive promotion of ESG measures is a major theme. The project has a positive side in many aspects, such as not only the establishment of partnership with outside entities but also the review of our environmental management system, leading to the betterment of equipment maintenance, employees' work styles, and awareness reform.
Are there any challenges to be addressed in the future?
Otsuka:I feel that there is still much left to be improved in the Smart Energy Network. We are now working toward making it even smoother for energy generators and energy users to share the necessary information and toward disseminating appropriate information extensively to energy users at the appropriate time.
Tsuruda:We cannot realize our philosophy "Delivering a Better QOL to the World" without the "environment," which underpins our operations. Considering that our operations would not be possible without raw materials, products, services and other elements resulting from the natural environment (ecosystem services), we recognize that environmental conservation is the issue on which we should place top priority.
To proceed with the necessary efforts in all the fields, including the value chain, we believe that it is important to form partnerships with TGES, local governments, and other stakeholders. I'm happy that I can hear a lot from you today, enabling me to learn about the importance of making efforts with an even wider perspective. I'd like to conclude by expressing my sincere appreciation to you for joining this talk session. Thank you very much.
Masahiro Nagatoshi
General Manager, Manufacturing Department Division, Utsunomiya Factory
The participation in this project contributes a lot, of course, to conserving energy, reducing CO2 emissions and improving economic efficiency. At the same time, the project is also significant in terms of risk management. At the time of the Great East Japan Earthquake, which I myself experienced, our plant was forced to suspend production.
This project could not be accomplished by Hisamitsu Pharmaceutical alone. I expect that the cooperation with our partners will achieve further development in reducing environmental impact and implementing BCP* measures (e.g. providing products on a stable basis, taking disaster measures, and ensuring energy).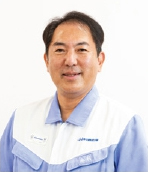 Masaki Ota
Deputy General Manager, Manufacturing Department, Utsunomiya Factory
This project has been promoted through partnership involving local governments, and I think that this is a big factor in making the project possible. I'm grateful that the project has been realized by many internal and external stakeholders. I'm aware that what is required in the age ahead is to work together with partners to solve social problems.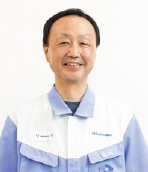 Tetsuo Yanaka
Manager, Environment Management Utsunomiya Factory
For about three years from the conclusion of the contract for this project in 2016 to its implementation, we reviewed a wide variety of equipment and faced many difficult challenges. However, the efforts we made have resulted in favorable performance, and I'm proud that the project contributes to reducing the environmental impact. The project also serves as a good opportunity for each individual to recognize the importance of operating under ISO14001, making the project even more significant.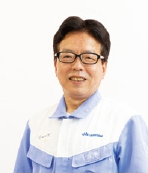 *BCP:Business Continuity Plan